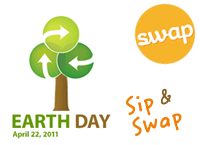 SWAP.COM PRESENTS:

Earth Day Clothing Exchange
For Girls & Guys
with The Swapaholics
at

HOW THE CLOTHING SWAP WORKS:
Buy a ticket, bring a bag, take home a bag!


6 to 8 pm
Clothing drop-off, mixer & registration.
Bring a bag of clothes, shoes, accessories & jewelry to donate to the swap in exchange for a reusable bag to fill to the brim with new-to-you items when the swap opens at 8:30 pm
Sip, nosh & network with Bostons most sustainably stylish set.
8:30 pm SHARP!
Doors open to the swap, and the good stuff goes fast so be on time!

10 pm – Last Call
Join us for an after party at Game On! around the corner.
Cash bar, menu, and batting cages!
Celebrate with us, our awesome swap partners & sponsors once we're off the clock, and brag about your awesome swap scores!
For Tickets go HERE!
(I have about five bags full of stuff to bring, including an Ikea bag full of shoes!)